L-R: David Bindman, Frank London, royal hartigan, Art Hirahara, Reut Regev, Wes Brown,

photo by Xanyani Ephraim
Whether the sextet is navigating large frameworks or minimal constructions, the creative conversation among the ensemble members is at the music's center. Compositions for the sextet draw on the players' unique voices, while adapting elements from jazz/new music, and West African, South Indian, and European traditions. Following the group's debut double cd Sunset Park Polyphony, our upcoming cd Ten Billion Versions of Reality includes works composed recently in the mountains of New York State, and pieces resurrected from sketchbooks that were in some cases conceived decades ago. The sextet's music offers a space for the listener to reflect, to move, to join the journey that unfolds in each piece…Imagine threads intersecting or appearing in different planes, following a narrative or creating a texture, or a lone voice contending with both the notated material and the ideas, feelings and intent of each piece: of the need for, and to provide, refuge, of joyful dances, of mystery -- about what we are doing on this planet, and how we treat it, and how we treat each other.

Blood Drum Spirit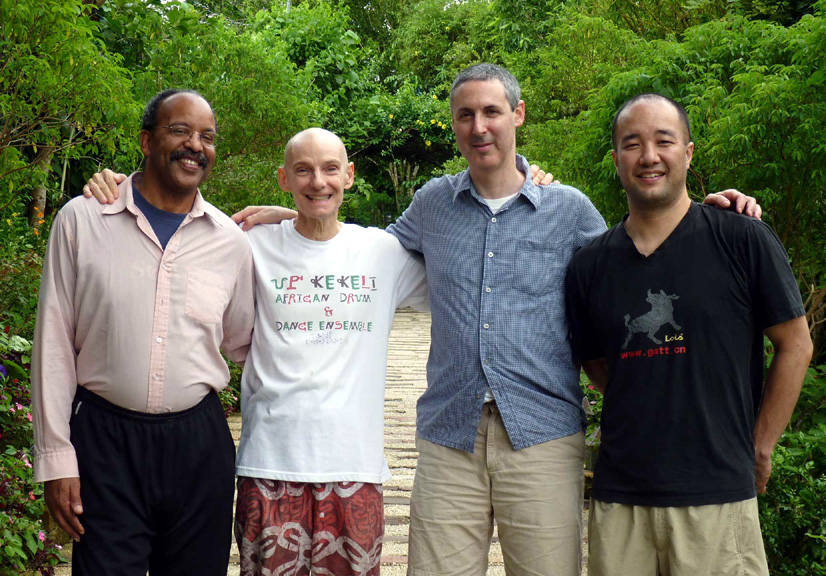 (L-R: Wes Brown, royal hartigan, David Bindman, Art Hirahara)
Photo by Toni Bernardo

In the early 1980s, at Wesleyan University, drummer royal hartigan, bassist Wes Brown, and saxophonist David Bindman began a unique and enduring collaboration: exploring specific aspects of world music traditions, and reaching deep into the African American tradition, they have created a body of work and way of playing together that combines myriad influences, spans generations, and is at once rooted, radical, and traditional. They formed JUBA with trombonist Bill Lowe, and were part of Talking Drums, under the leadership of Ghanaian master drummers Abraham Adzenyah and Freemen Donkor. Talking Drums merged traditional music of the Ewe, Fon and Asante peoples with highlife and jazz. In 1987 the group toured the USA and released Some Day Catch Some Day Down (Shanachie, reissue Innova 2011). While at Wesleyan, Bindman, Brown, and hartigan also studied South Indian Karnatic music with Tanjore Ranganathan and Tanjore Vishuanathan, applying the study of tala (time cycles), and raga (modes) to communicate rhythmic and melodic structures, often involving asymmetrical time cycles. Under hartigan's leadership, joined by pianist Art Hirahara, the collaboration continues. The group has performed in China and the Philippines, and, in 2015, traveled to Ghana, where they performed and conducted workshops in Accra and Kumase, and collaborated with master artists from the Ewe, Asante, Ga, Lobi, Dagara, and Dagbamba peoples in rural villages. The project was documented in video under the direction of Rev. Martin Adi-Dako; the music and video are the basis for the soon-to-be release documentary film We Are One, by Sara Pettinella.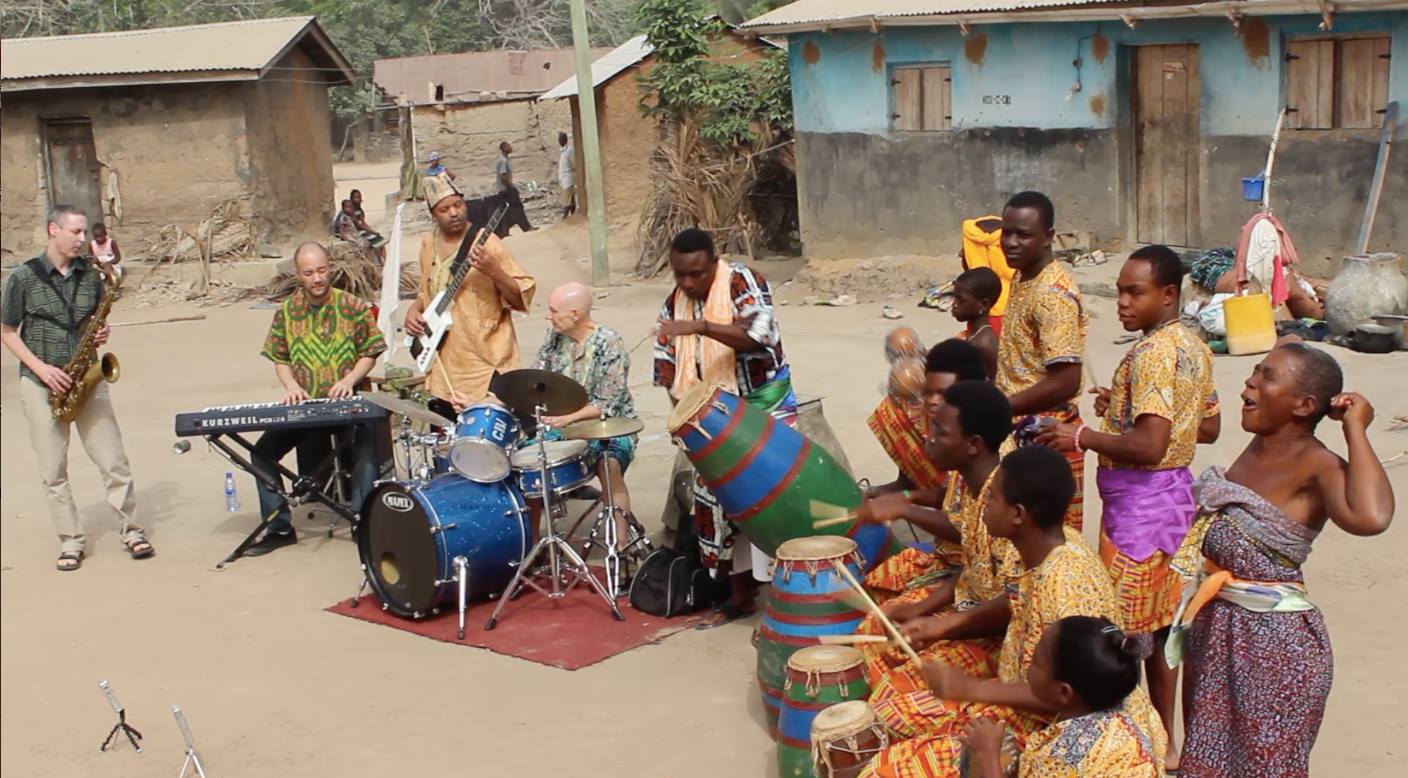 BDS playing Adzogbo music with the Dagbe Cultural Centre's music and dance ensemble at Kopeyia-Aflao, Ghana, led by master drummer Emmanuel Agbeli. For information on study at the Centre, contact Emmanuel at dagbekopeyia@hotmail.com, http://www.dagbeinstitute.org/
Brooklyn Infinity Orchestra
A collective jazz/new music ensemble that presents works by its composer-members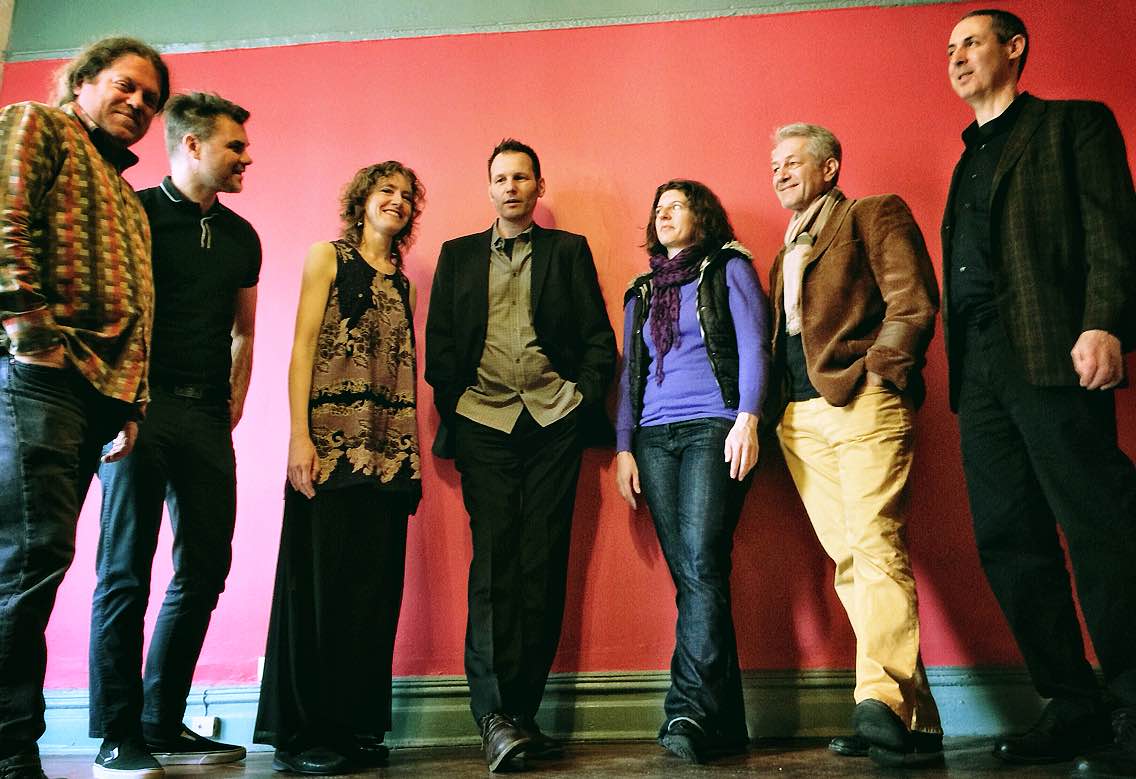 L-R: Andrew Drury, Michael Bates, Stephanie Griffin, Thomas Heberer, Jen Baker, Stefan Bauer, David Bindman), photo by Max Drury