DAVID BINDMAN, saxophonist and composer, creates works that combine many elements: drawing on the motion of dance, exploring the complexity of melody and time unbound, and emphasizing improvisation at the core. His new works, inspired by journeys of discovery and transformation and by sights and sounds close to home, merge old and new musical forms and incorporate rhythmic cycles and modalities from West Africa, India, and around the globe. Heard on the recordings The Way of the Saxophone (Innova) and Far Side of Here (Omnitone), and Blood Drum Spirit: Live in China (Innova), among many others, Bindman's work has been described as 'smart, fun, and multiculturally funky' (Alexander Varty, Georgia Straight) and 'truly a merging of wide sounds...tuneful to the last.' (Andy Bartlett, Cadence). David co-led the Brooklyn Sax Quartet with Fred Ho for a decade; in 2012 he released his sextet's double CD Sunset Park Polyphony. Critic Mike Shanley describes the music as 'a new forceful strain of jazz' (Shanley-on Music); Steve Holtje calls the CD '[Bindman's] masterpiece so far' (Culture Catch); Sergio Piccirilli writes that 'David Bindman completes here a successful creative circle born of his curiosity to understand the world' (El Intruso). Bindman seeks to create work that offers, in any way possible, artistic alternatives to the profit-driven imperatives that imperil life, that deny justice, and that go against the human spirit and the natural world. He lives in Sunset Park, Brooklyn.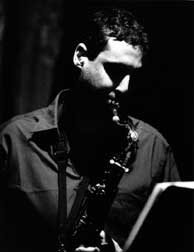 photo by Steve Johnson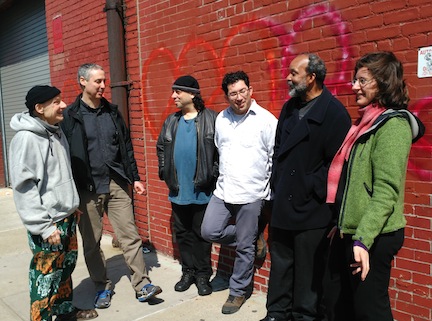 photo by Evelyn Donnelly
Upcoming concerts in VT, MA and NYC April 2-10:

Jen Baker, trombone, Wes Brown, double bass, Royal Hartigan, drums, Frank London, trumpet (VT and NYC), Matan Rubinstein, piano, and David Bindman, saxophones/composer.
Tour details:
Saturday April 2 Artistree, South Pomfret, VT; workshop 2-4 pm (free), concert 7-9 pm ($20/cash bar) http://www.artistreevt.org/master-class-david-bindman/ ; http://www.artistreevt.org/david-bindman-sextet.html
Sunday April 3 Concert at Marlboro College, Marlboro, VT, 3 pm, free and open to the public, Ragle Hall, Serkin Center
April 4-8 University of Massachusetts Dartmouth residency, details to be announced…
Friday, April 8 Concert at Wamsutta Club, 427 County Street, corner of Union Street, downtown New
Bedford, MA, 8 pm. Tickets $20 in advance and $25 at the door. www.whalingcitysound.com.

Sunday, April 10 Concert at The Stone, NYC, sets at 8 and 10 pm ($15/set). This concert is the last night of the tour and the last night of Frank London's week of music at The Stone! http://thestonenyc.com/calendar.php?month=3
Line drawing by Iliana Zamorska.
All rights reserved.