Welcome to this place of sounds, images, and ideas. Here you will find information about my work in music past, present, and in-progress. The site also contains pictures and writings that move beyond music, yet are invariably connected with it. I invite you to take a tour. And, if the spirit moves you, get in touch. Thanks for reading! — DB

---
Some background:

The music I have been part of always involves other people in concentric circles of learning and collaboration. Sometimes someone will ask, "Who are your influences?" While I can list many from the history of music, it is the people close to me, those who I have had the privilege to either study or play with, or both, who I am most inspired by.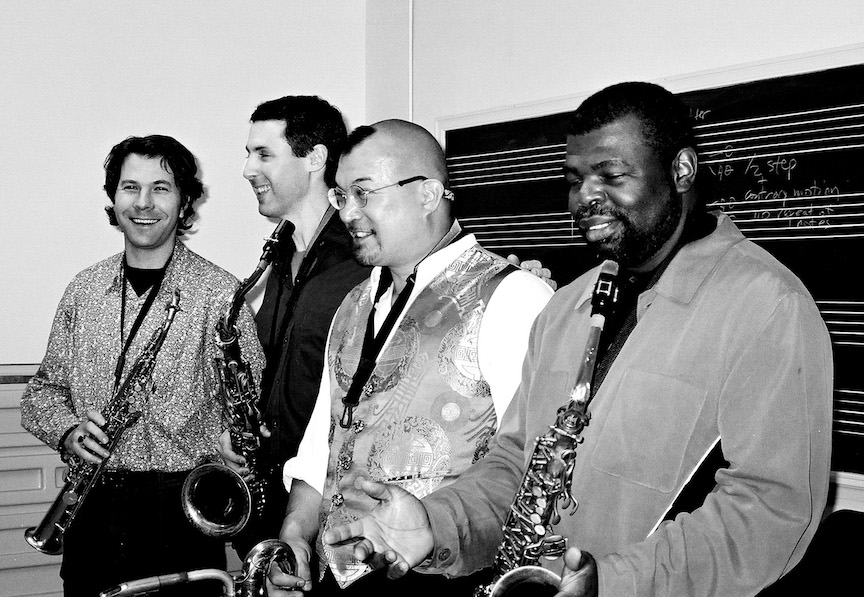 The Brooklyn Sax Quartet: Chris Jonas, David Bindman, Fred Ho, Sam Furnace, Seattle 2002, photo by John Gilbreath
I remember a time when the idea that one can play what one hears, in the context of what everyone else is doing, resonated so strongly that I dove in headfirst. The music offered a universe of creative possibility, where feelings and ideas could be expressed beyond words.

I have always been drawn to the collective aspect, the conversation, the idea that we can create a piece of abstract beauty using preconceived material or that we imagine together.
Music is a renewable energy source. It continually opens new windows, drawing on age-old associations, to a world ever in flux, and into an internal world—of memories, of loves, of visions for how things can be.

---
DB Sextet CD releases (tracks streaming on the Sounds page):